Leading Lithium Battery Manufacturer
We provide one-stop battery pack wholesale, manufacturing, customization services and global shipping according to customer needs.
TALK TO AN EXPERT
Why Choose Us?
R&D: Team of 25, including 5 ex-BYD senior engineers.
Supply Chain: Premium cell resources from CATL, BYD, Gotion, Ganfeng.
Workshop: Semi-automatic, equipped with advanced testing tools and laser welding machines.
Product Lines: 4 semi-automatic and 2 fully automatic lines.
Quality Control: Rigorous checks on incoming materials, production control, and product testing for a 100% yield rate.
After-sales: Dedicated 24/7 team for after-sales issues with free replacements during warranty.
Reliable LiFePo4 Battery Pack Supplier
Shenzhen Justlithium Battery Co., LTD boasts an expert team comprising ex-BYD senior engineers, who bear the responsibility for the core design of our products. Presently, our engineering team consists of over 30 individuals, while the production line accommodates a workforce exceeding 80 employees. Anticipated for 2022 is a shipment volume poised to hit 2GWh. Our robust supply chain stands ready, capable of furnishing premier, first-line brand batteries—names like CATL, Gotion, and EVE grace our offerings. With a wealth of experience in diverse fields including household energy storage, RV applications, golf cart power, and industrial energy storage, we're primed to offer comprehensive turnkey solutions.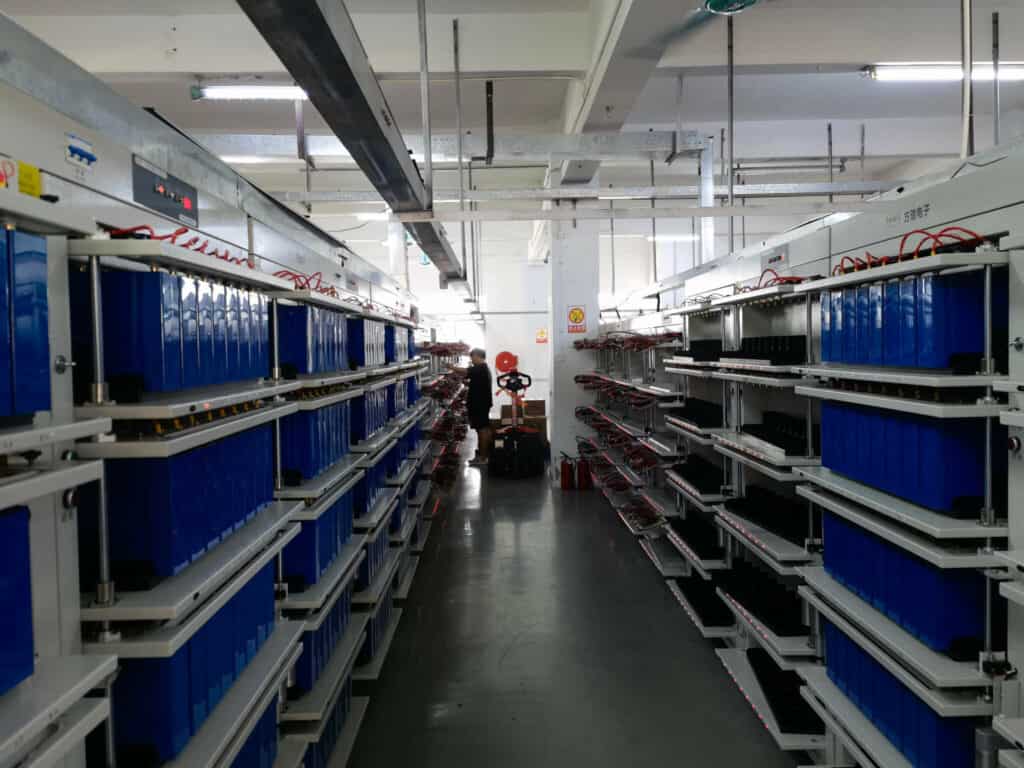 Aging Room
Each battery undergoes a full charge and discharge test in our aging room before dispatch. Experienced staff meticulously record all data, which is automatically linked to the product's serial number.
Workshop
Our production facility spans over 6,000 square meters, featuring 6 independent, 3 customized, and 2 emergency production lines. We ensure all raw materials meet IEC16949 standards through rigorous storage and inspection.
Grading System
Our battery packs are made from brand-new A-grade cells by renowned brands like Gotion, EVE, Sunwoda, CATL, and Ganfeng. Each unit undergoes a capacity test before being stored for use.
Sample Workshop
We perform small-scale sample tests before mass production to ensure reliability. These include thermal runaway, charging/discharging, waterproofing, and over-discharge tests, using data to confirm the battery pack's performance.
Laser Welding
We employ laser welding machines for standard modules, significantly enhancing welding strength, preventing false welds and future looseness, and boosting production efficiency.
SOC Proofreading
To prevent over-discharge during long-distance transport, we perform unified SOC tests before shipping and recharge any battery packs below 55%, significantly extending their safe storage life.
Production Line
Our production follows clear SOPs, with all staff undergoing specialized training. Each manufacturing step's data is recorded in the ERP system, and we regularly calibrate all measuring instruments to ensure precision.
Cell Warehouse
Our cell warehouse, managed by dedicated personnel, includes an inspection area for incoming materials. Only batches that pass our rigorous sampling inspection are stored.
Featured Products
We utilize stable supply chain resources and domestic mainstream brand cells to produce your required battery packs, certified with CE, MSDS, UL1973, TELEC. Our team, including former BYD senior electrical engineers, brings extensive industrial energy storage project experience, ensuring reliable technical support.
Customer Case
As a leading Chinese Lithium-ion battery manufacturer, we've consistently delivered reliable, safe, and cost-effective products globally. Explore our gallery of user installation photos and shipping snapshots. Share your project installation pictures with us and enjoy a partial discount on your next order.
Battery Application Scenarios
Lithium-ion batteries, essential for modern industry and daily life, stand out for their high energy density, long life cycle, no memory effect, and deep discharge capacity. Below are key application scenarios
What Makes Us Special?
What Makes Us Special?
Our certifications are categorized into raw material, product, production qualification, and invention patents. Justlihiumbattery™ sources cells from renowned brands like CATL, Gotion, BYD, EVE, and Ganfeng, ensuring extensive pre-factory verification. 
Our products hold CE, MSDS, and UL certifications. With over 40 invention patents, Justlihium was recognized as a national high-tech enterprise in 2019.
BYD Ex-engineer
Our core technical team, composed of former senior engineers from BYD, brings decades of project experience to the forefront.
Worldwide Business
Our primary clientele spans North America, Canada, Germany, Italy, South Africa. We are actively seeking to expand our network with global dealers.
Stable Cell Resources
Our battery packs, crafted with top brands like CATL, Lishen, Gotion, and BYD, are rigorously inspected for quality assurance.
Richly Tailored Ability
Our extensive selection of standard products is complemented by fast, customized solutions — providing plans and quotes within 24 hours.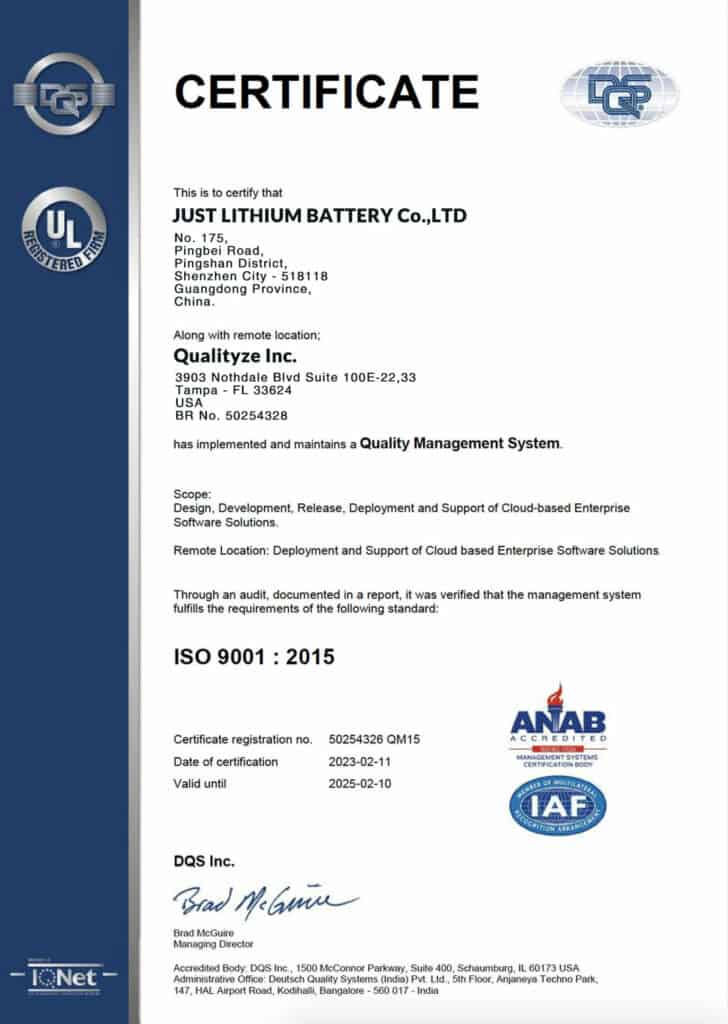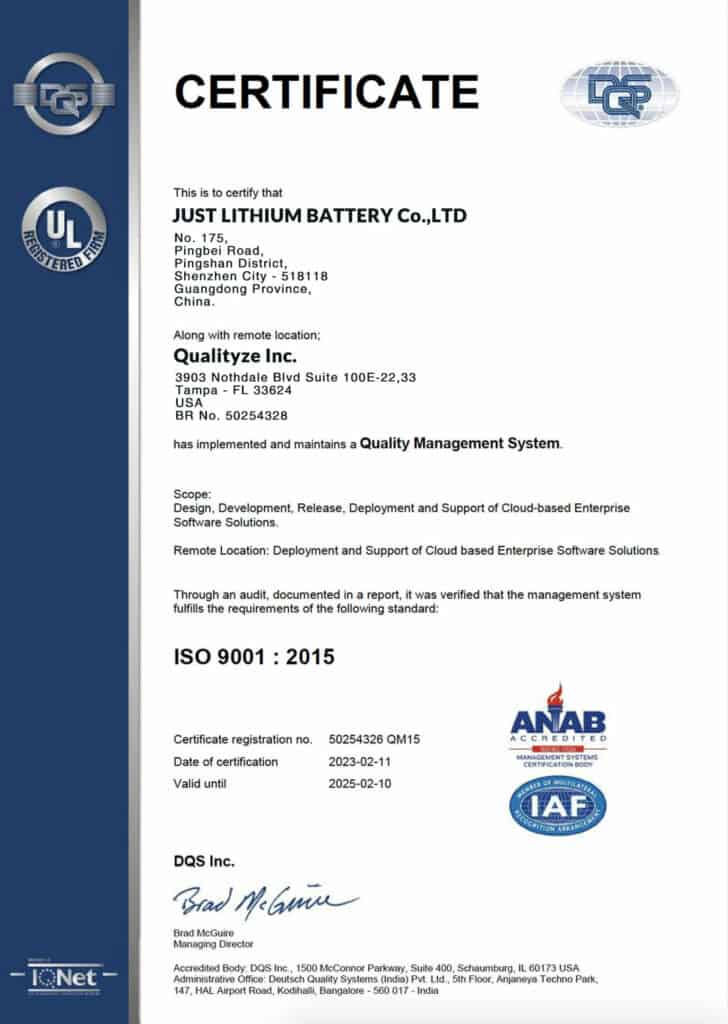 Product Features
Justlithium™ focuses on delivering lithium-ion battery packs with innovative design, practicality, and reliability. We prioritize functional design and user experience, striving for excellence in every product.
Hearting Module
Our heating module ensures safe battery charge and discharge in extreme cold conditions.
Rich Accessories
Each product includes warranty cards, instructions, essential wires, and secure packaging.
Laser Welding
Laser welding technology in our battery packs stabilizes copper bars, ensuring durability under complex road conditions.
IP67 Waterproof
Our products are IP67 waterproof rated, ideal for outdoor use and everyday home installations, ensuring resilience against rain.
Smart BMS
Our battery packs feature an integrated high-performance BMS for safe operation, with options for GPS, heating, and communication modules.
Strong Scalability
Equipped with high-voltage MOS tubes, our battery packs support up to 4-series or 4-parallel connections, with an optional active balancing BMS.
Which LiFePO4 Battery Should I Choose?

The suitable battery type depends on your needs, including voltage, usage scenario, and installation method. For any questions or assistance, feel free to contact us for prompt and comprehensive support.

Do You Offer Solar Panels, Inverters, and Chargers Alongside Batteries?

Along with battery packs, we offer complementary products like solar panels, inverters, and chargers for energy storage applications, with the option to ship them together.

What Is the Estimated Lead Time for Orders?

Lead times vary based on material stock and battery complexity. Typically, it's 15-20 days, but 30-40 days for deeply customized LiFePO4 batteries. For most customers, the lead time won't exceed 35 days, and for samples, it's within 7 days.

How Long Is the Shipping Time, Is Door-to-Door Delivery Available?

We provide DDP (door-to-door and tax-included) services to countries like the USA, Canada, Germany, Italy, etc. In some countries, we offer DDU (door-to-door, tax-exclusive). Global CIF and FOB services are also available; please contact us for more information.

What Are Your Payment Terms?

Payment terms are 100% upfront for sample orders. For regular bulk orders, it's 50% advance and 50% before shipment.

Can You Describe Your Warranty Policy?

We offer a 5-10 year warranty under proper use, with remote assistance and free battery replacement during the warranty period if issues arise and cannot be repaired. However, you may need to cover necessary transportation costs.

How Do I Apply for After-Sales Service?

Each battery undergoes independent testing with a one-to-one report, linked to its unique QR code, minimizing quality issues. For any concerns, contact our dedicated after-sales at admin@justlithiumbattery.com for a response and resolution within 24 hours.

Is There an Option to Customize Battery Packs?

While we offer mature lithium battery products for common applications like home energy storage and EVs, we're also happy to provide customized services tailored to your specific needs.

Do You Provide Technical Guidance for Product Use?

During the 5-10 year warranty period, we're ready to assist with installation or usage issues via email, video conference, and other methods, with engineers available to address every concern.

Are Your Batteries Compatible with Inverters?

Our battery packs support RS485 and CAN communication protocols and are compatible with various inverter brands. For specific model compatibility, please contact us.

Can I Specify a Brand of Cell for My Custom Battery?

For custom batteries, please specify your preferred cell brand, and we'll accommodate your request.

Do Your Batteries Come with Necessary Certifications?

Most of our battery packs come with CE, MSDS certifications, and the cells are IEC and UL certified. We're also willing to apply for additional certifications as needed for your locality.

Is It Possible to Visit Your Factory?

You're welcome to visit our factory in Shenzhen, Pingshan. Please inform us one week in advance to arrange a specialized tour.

Can You Help Design and Manufacture a Complete System?

We offer a Turnkey solution; just share your requirements, and our sales managers and engineers will respond within 24 hours with a basic solution.
How Can We Help Your Business?
Efficiently reviewing your needs to provide professional technical solutions! We listen, care, and guarantee a response through email or phone within 6 hours.
Which type of lifepo4 battery shall I buy?

Usually it depends on your specific needs. Considering that there are different classification methods, such as by voltage, by usage scenario, by installation method, you should also judge based on your specific usage. If you have any questions or need help in this regard, please do not hesitate to contact us, we are always ready to provide you with the most timely and patient assistance.

In addition to battery, do you provide solar panels, inverters,chargers?

Yes, in addition to the battery pack, we can also provide you with supporting solar panels, inverters, chargers and other products used with energy storage applications, and ship them to you together

It depends on our material stock status and how complicated the lifepo4 battery is. Normally, it takes 15-20 days, For lifepo4 battery that needs to be deeply customization, it generally takes us about 30 to 40 days. For most our customers, the lead time will not exceed 35 days. For samples, the lead time is within 7 days.

How long does shipping usually take? Can it be delivered to door?

For most countries in the world, such as the United States, Canada, Germany, Italy, etc., we provide DDP services, door-to-door delivery and tax included. However, some countries may only provide DDU services, which can be door-to-door but tax-free. Of course, we can provide global CIF and FOB services, please contact us for details

What is your payment terms?

For sample orders, 100% payment in adgvance. For regular bulk order in the future, our payment term is 30% advance payment and 70% balance payment before shipment

What is your warranty policy?

We Provide 5-10 Years Warranty Under Proper Use. Will Provideo Remote Assistance and Send Free Replacement Battery Under the Warranty Period Ty Isne and Contract us and it count't be repair.But you might required to pay needs

How to apply for after-sales service?

Each of our batteries will be independently tested before leaving the factory, and there is a one-to-one test report. This report is bound to the independent QR code on each battery, so there are generally few quality problems. But if you still encounter it, please do not hesitate to contact our after-sales dedicated email:admin@justlithiumbattery.com. We have a special department responsible for following up this email, and your email will be replied and resolved within 24 hours

Does your battery pack support customization?

Yes. We have provided mature lithium battery products in commonly used home energy storage, RV, EV, solar energy, industrial and commercial energy storage and other fields, but if you want to customize according to your specific needs, we are very happy to provide this service

Do you provide the necessary technical guidance?

Yes, within the 5-10 year warranty period, as long as you encounter any need for assistance during installation or use, we are very happy to help you. Engineers can be coordinated to solve every problem you encounter by mail, video conference and other ways.

Can your battery communicate with the inverter?

Yes, our battery packs include RS485 and CAN communication protocols, and are compatible with inverters such as Growatt, MUST, GoodWE, Victron, Sermatec, etc. Please contact us for specific models

Can you make batteries according to the brand of cell I specify?

Yes, please provide us with the specific cell brand, if you have a favorite cell brand

Do your batteries have the necessary certifications?

Yes, for most models of battery packs, we have CE, MSDS, certifications, and for cells, we have IEC and UL certifications. If there is a need for other certificates in your local area, we are happy to apply for this certification for you.

Can I visit your factory?

Yes, our factory is located in Shenzhen, Pingshan. Welcome to visit our factory if you need. We will have a special person to receive and introduce, but please inform us 1 week in advance.

I need a complete system, can you help me design and manufacture it?

Yes, we provide Turnkey solution, you just need to tell us your needs, our sales manager and engineer will reply you within 24 hours and provide a basic solution